Facilities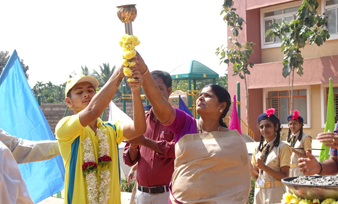 Our Vision
"To create the right environment and foster the spirit of exploration in the teacher and the taught. So as to encourage introspective thoughts, words and actions to awaken consciousness, concern for mankind and the environment in order to establish global harmony and inner courage and also built our students into citizens with a conscious".
"The aim of our school is to develop all around personality of the child physical intellectual, Social, Emotional and Spiritual. The school strives hard to help the children to mature with love for learning, habits of critical taught and accurate expression and ultimately the strength of the moral values needed to become good citizens of tomorrow".
It is our continuous effort to nurture young minds and mould them into those who will prove a credit not only to the institution but to the country as well. We, at Lalitha International Residential School, through education prepare the future generation of the country by providing them as many opportunities to develop their personality in order to sustain and strengthen the student community. The aim of this prospectus is to convey that Lalitha International Residential School pursues a system which strives to excel in academic, curricular and co-curricular activities. It is the endeavour of the faculty of Lalitha International Residential School to make education a purposeful and meaningful experience.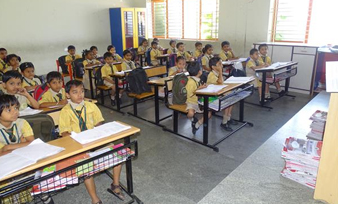 CBSE Curriculum
The core values of our school curriculum draw its strength, by keeping pace with the 21st century and the global trends of educational transformations, as well as keeping in view that India is an independent nation with a rich history, cultural diversity and commitment to democratic values and general well being. One of the basic aims of education is to nurture in the learner a sound mind and strong values driven character.
Learners should be educated to uphold the democratic values, respect the rules of Law, and support humanitarian ideals; they should engage in healthy practices to be able to develop robust and healthy physique, learn how to think for themselves and be creative. We aim at nurturing responsible citizens with a senseof patriotism and a global perspective. In Principle, education is a learning progression to help learners explore their innate capacity and talents as well as develop their potential to improve and enhance sustainability of their living environment.
The CBSE Curriculum provides an adequate experience on the guiding principal of constitution which reflect a commitment to democracy and the values of equality, justice, freedom, concern for others well being, secularism, respect for human dignity and human rights.
Continuous and comprehensive Evaluation is an educational system newly introduced by central Board of Secondary Education in India, for students of sixth to tenth grades. The main aim of CCE is to evaluate every aspect of the child during their presence at the school. This is believed to help reduce the pressure on the child during before examinations as the student will have to sit for multiple tests throughout the ear, of which no tests or the syllabus covered will be respected at the end of the year, whatsoever. The CCE method is claimed to bring enormous changes from the traditional chalk and talk method of teaching provided it is implemented accurately.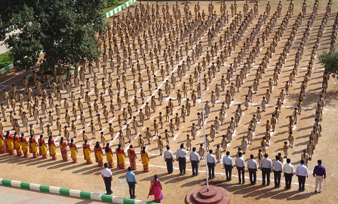 Faculty Members
The teaching faculty of Lalitha International Residential School are highly motivated and committed in the field of education. Not only are they qualified in their respective subjects but also experience of working in residential schools. Besides being teachers they are a counsellor, guide and mentor to the students. Individual attention is given to all students. They inculcate the value of culture and practical ethics a need of every student in their public life along with academic pursuits.
A team of well-qualified and competent teachers whose repertoires of skills include enthusiasm, talent and encouragement. They are provided training in the latest systems and 7techniques in the field of education which enables them to be abreast of innovative development. An atmosphere that encourages and motivates self-study by students has been created with the teacher being the inspiration behind the learning process.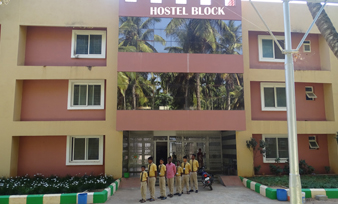 Hostel
The hostel is geared to provide quarters in which the residents can feel comfortable and at home with hostel for girls and boys. Provision has been made to accommodate students. Every floor has a spacious study hall and sufficient number of clean and well – maintained toilets and bathroom with continuous water supply, electrical boilers provide hot water. The hostel premises are kept meticulously clean by the diligent hostel maintenance staff.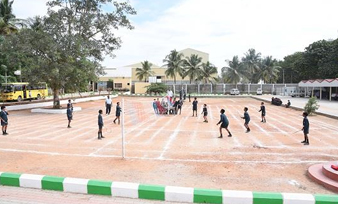 Play Ground
A multitude of outdoor games find well structured playgrounds for the children to indulge in sports that provide adequate avenues to grow. We have trained and certified coaches in foot ball, Hockey, Karate, Cricket, and Volleyball for outdoor games while excellent provision is made to excel in indoor games such as Badminton, Table Tennis and so on. Moreover the students are trained in mass P.T. and Yoga.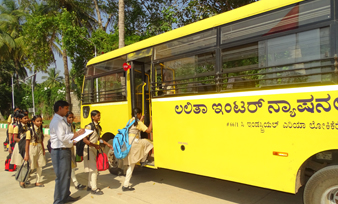 Services
LIRS campus has a fleet of well-maintained vehicles to cater to the transportation needs/requirements of the students, commuting between their residences to thecampus.
TRANSPORT SERVICE : Lalitha International Residential School campus has a fleet of well maintained vehicles to cater to the transportation needs/ requirements for the students, commuting between their residences to the campus.
LAUNDRY SERVICE : Campus has been providing laundry service to students. The laundry includes cleaning of the personal sheets, pillow cases and the rest of other clothes.
SAFETY AND SECURITY : The security guards are deployed in key areas under the supervision of chief security officer. The safety and well-being of all hostellers is organized and monitored by a team of residential male/female securities as appropriate. The security is enforced by manning all vulnerable areas and points such as hostel, in/out gates, electrical installations and vehicles parking areas. Area patrolling and perimeter patrolling by security guards during after-hours ensures security of the area.
CCTV : The CCTV cameras are installed in various key areas to check the movement and activities of the students, staffs and the visitors of our school.